Hotel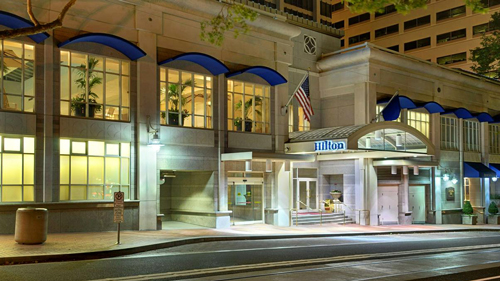 Hilton Portland Downtown
921 SW Sixth Avenue
Portland, OR, 97204
Reserve your room online and receive the group rate. The group rate will be available starting September 2023.
Travel
Airport
Portland International Airport
7000 NE Airport Way
Portland, OR 97218
The distance between Portland Airport (PDX) and Hilton Portland Downtown is 7 miles. The road distance is 9.6 miles.
There is a direct train departing from Portland Int'l Airport station station and arriving at Pioneer Square North station station. Services depart every 30 minutes, and operate every day. The journey takes approximately 39 min and cost $3.
The quickest way to get from Portland Airport (PDX) to Hilton Portland Downtown is to taxi which costs $27 - $35 and takes 18 min.
At PDX, just as you would elsewhere, use the Uber or Lyft apps to request your ride.
Getting Around Portland, Oregon
MAX Light Rail: Portland's efficient light rail system connects the metro area and downtown core. Learn how to ride and where to go on MAX.
Portland Streetcar: The City of Roses built the nation's first modern-day streetcar in 2001: the sleek and modern Portland Streetcar.
Bus Service: The TriMet bus system, which covers the city and its suburbs, offers low fares, friendly drivers and full wheelchair accessibility.
Rental Cars
Several car rental companies, including Avis and Budget, have deals for ASCE members.